Endless Design Choice With NFC Boards
indowud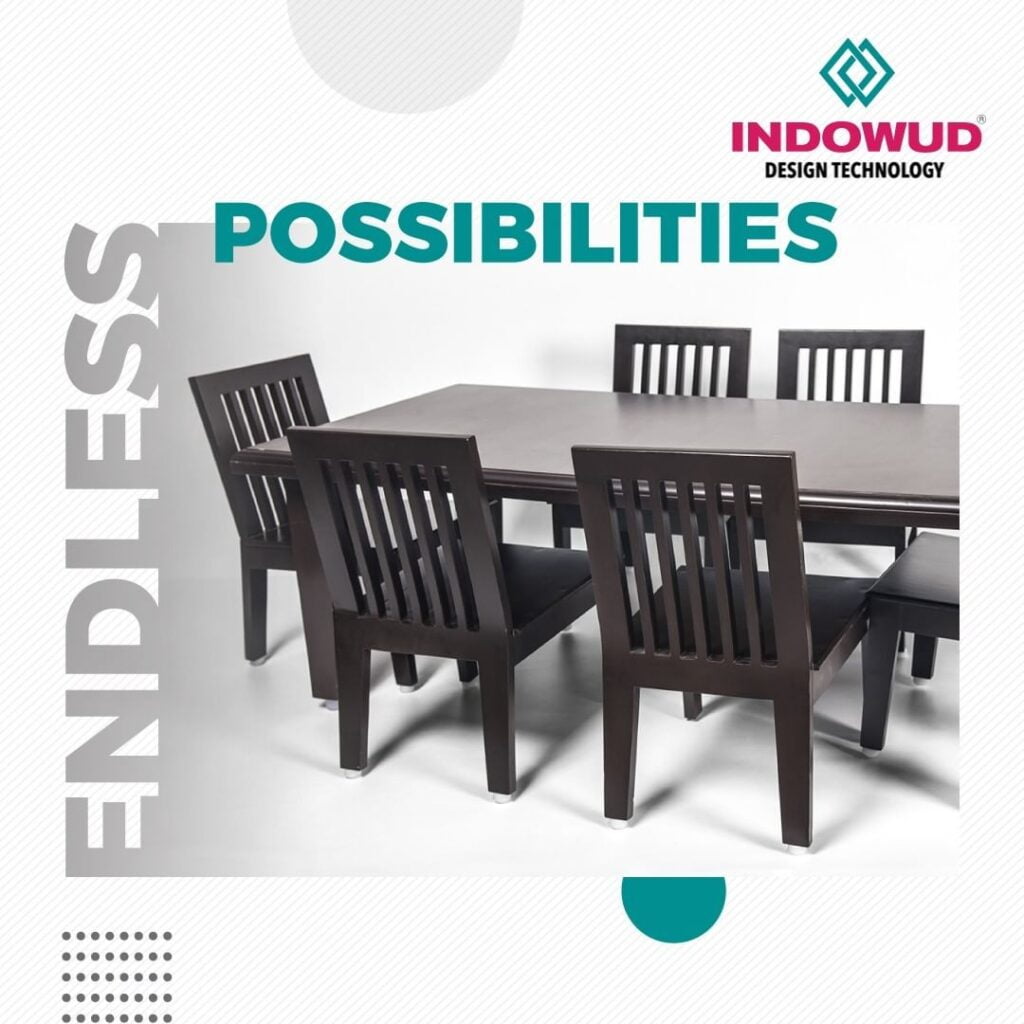 NFC boards are also known as natural fiber composite boards produced with Agri husk primarily. It looks, feels, and can be handled like plywood with features better than plywood. The compound matrix containing minerals, additives, and PVC Resin is then extruded in a sheet form. Every board undergoes surface processing to get its rough surface and gets calibrated.
There are various ways one can increase the aesthetics of furniture made with Indowud nfc.
i)Thermoforming
One of the unique features of Indowud NFC is thermoformability. The high content of natural fibers makes sure that the density and dimensional stability is uncompromised post thermoforming. Heating time and cooling time depend on the thickness of the board. The ideal heating temperature is about 130- 160°C while the locking time is five minutes.
ii) Printing and CNC Routing
With a wide variety of designs for veneers, patterns, and customized designs, prints can add to aesthetics. These designs can be printed on a flat digital or UV printer. The transparent sealant may be used to protect from dust and scratches before the final coat of desired varnish finish. With Indowud NFC, 2-D and 3-D effects in routing are easily possible. These CNC routed boards are suitable for jalis, partitions and can be used for, elevations, gates, fences, and many more exterior applications.
iii) Surface Finish
Painting, staining and overlying Indowud NFC boards with laminate, wallpapers or veneers is easily possible. The grains on Indowud can also be maintained as it is and can be coated with varnish or a sealant to keep the wooden look whilst protects against soiling and staining.
iv) Easy workability and Screwing
Indowud nfc boards have high density. Agri husk is added at 110 PHR along with other ingredients. Conventional carpentry tools are suited for Indowud NFC. These boards are easy for drilling, cutting, sawing, sanding, and nailing. No special tools are needed for the same.
High content of natural fibres enables superior nail holding and screwing. Stainless steel screws are recommended for external applications. Furthermore, threading of screws also play an important role in screw holding strength.
FAQ's
1. How does Indowud NFC resonate with creative freedom ?
Indowud NFC is one product with endless possibilities. Its thermoforming ability brings ideas into reality as the product can be given any shape and design by molding. Its water and termite-proof, flame retardant, and smoke suppressant features provide complete peace of mind. Furthermore, it can be painted, printed, varnished, overlay laminates, or veneer – just like a wood product.
2. What does CII Green Pro certificate mean?
CII-GPSC/ CII-Godrej GBC has certified Indowud NFC and awarded with GreenPro Ecolabelling, accredited by Global Ecolabelling Network (GEN) through GENICES-GEN's Internationally Coordinated Ecolabelling System. It has been created Indowud NFC with Ahimsa Philosophy and a Make in India initiative. No wood used, no green belt habitants disturbed.
3) How effective is Fire resistance in plywood
Fire retardant plywood, flame-resistant plywood or even the best waterproof plywood are available in the market. Unlike plywood, Indowud doesn't support flame spread. Indowud has got Vo Rating under the UL 94 laboratory, equivalent to class 1A. Indowud's life span is much better than conventional wood.